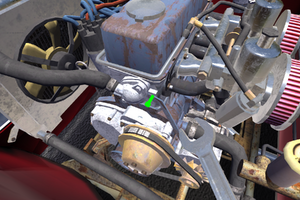 Here is a complete list of bolt sizes and quantities per part. For example; 6x9mm is 6 bolts/nuts with the 9 mm spanner/ratchet. A bolt/nut will turn green when it is hovered over with the correct sized spanner/ratchet.
Note: Inline nuts cannot be tightened with a ratchet (e.g. a master cylinder nut).
An in-depth guide on how to build the whole car can be found here.
Parts that appear in or around the garage at the start of a new game:
Parts bought from the catalog or Teimo's Shop, or found across Alivieska:
Miscellaneous tightenable objects: