Cigarettes are a way to relieve stress in My Summer Car. They can be bought from Teimo's Shop or Pub Nappo.
By default I is pressed to smoke a cigarette. Holding I will smoke the cigarette. An unwanted cigarette can be thrown away by double pressing I.
Smoking too many cigarettes will cause nicotine addiction which increases the rate of stress. A maximum of 20 cigarettes can be held by the player.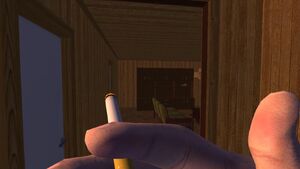 The brand of the cigarettes is "Petsamo". Petsamo is a former Finnish area in Lapland that was ceded to the Soviet Union in 1944.
The company which produces the cigarettes is Suomen Tupakka Oy ("Finnish Cigarettes Ltd."). This was a real company name, though in 1995 they were operating under the name BAT Finland Oy; currently, they are operating as British American Tobacco Oy.
Throwing a cigarette at a fuel pump at Teimo's Shop will cause it to explode, killing the player character.