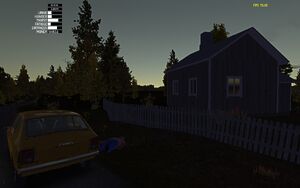 Driving a drunk home is an odd job that starts with a phone call from the drunk guy in the middle of the night, usually after 2 AM when Pub Nappo closes.
The drunk requests the player to you pick him up across the street from Pub Nappo and drive him to his house. Travel towards your home, via the gravel roads. shortly after you cross the railway line, the drunk guy's house (grey house) is on your right. After the drop off, the drunk pays a sum between 100 and 700 mk and collapses into the gutter in front of his house. If the player waits long enough, the man will not give the money and get out of the car.
The drunk guy can be picked up in the Satsuma as well as Hayosiko and Ferndale.
Driving during the night can be dangerous since there is a high risk of crossing paths with wild moose (elk) with fatal consequences.
If the player gets out of the vehicle and walks into the drunk, the man can be knocked to the ground, falling asleep and snoring. His thighs, arms, shoulders and legs can be slightly picked up and moved, but not enough to be able to lift him into any vehicle.
After the fifth time you drive him home, drunk guy or Jokke, will explain to you, that he is a millionare and hides his money in a a suitcase.
Ad blocker interference detected!
Wikia is a free-to-use site that makes money from advertising. We have a modified experience for viewers using ad blockers

Wikia is not accessible if you've made further modifications. Remove the custom ad blocker rule(s) and the page will load as expected.