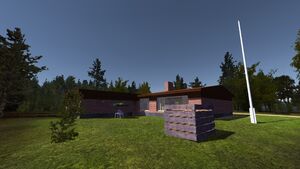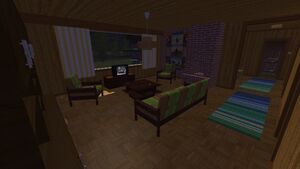 The player's home is located in the Kesselinperä area. The home address is Kesselinperäntie 3 and the postal code is 62362 Alivieska. The postal code isn't valid, but it points to somewhere in Ostrobothnia.
As of the December 19th update, some weird behavior can be seen at night. It is possible to see the door to the laundry randomly opening from time to time. The door to the player's parents bedroom can also open when watching the night TV.
The following things can be found in, or near the home:
A Finland-shaped clock mounted on the kitchen wall, for checking the time.
A bed, for sleeping – Reduces fatigue
A basketball, for passing time
A radio, for listening to music
A TV that airs a program every day from 10am to 10pm. From 10pm to 10am the TV shows a test pattern. Watching it greatly increases fatigue.
A sauna – Reduces stress
A shower – Reduces dirtiness
The Amis Auto magazine where the player can order aftermarket car parts for their Satsuma car
Two faucets, one in the kitchen and another in the shower. It is possible to drink from the faucets and thus reduce thirst.
A refrigerator in the kitchen where it's possible (but not necessary) to store food and drink items
A pantry with shelves where the player can store food or other items
On a shelf in the living room there is a small wooden train. This is a reference to the second line in the song Routainen maa, the "death song" that is played when the player dies. The line in question is "Isä poltti puisen veturin," which translates to "Dad burned the wooden locomotive."
Ad blocker interference detected!
Wikia is a free-to-use site that makes money from advertising. We have a modified experience for viewers using ad blockers

Wikia is not accessible if you've made further modifications. Remove the custom ad blocker rule(s) and the page will load as expected.