Two long coil springs can be found outside the Car Repair Shop in between the wrecked green Pölsa and the tractor to the left of the entrance. These long coil springs replace the Satsuma's standard rear coil springs, increasing the height of the car and softening the ride.
To install
Edit
Jack the Satsuma up and remove both rear wheels, shock absorbers and coil springs. Put the long coil springs in place of the original, reapply the shock absorbers and wheels. Remove the car jack.
The ride height will increase by roughly two inches.
The ride will be smoother but bouncier at the back.
Increases oversteer at high speed.
Will lessen the chance of the exhaust pipe or fuel tank scraping and falling off over bumps.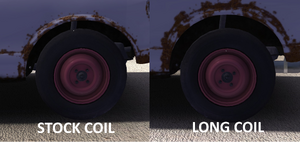 Ad blocker interference detected!
Wikia is a free-to-use site that makes money from advertising. We have a modified experience for viewers using ad blockers

Wikia is not accessible if you've made further modifications. Remove the custom ad blocker rule(s) and the page will load as expected.