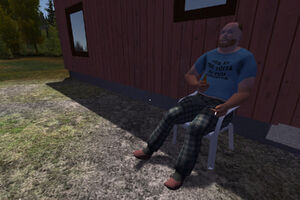 In addition to the player, shopkeeper Teimo, mechanic Fleetari, the car inspector Lindell and the bus driver Pekka, there are some other people who live in Alivieska:
The Kesselis, who are presumably the player's family but are absent. Teimo makes a reference to "wait till your dad comes home" in one of his phone calls. The family seem to have a building firm that owns the van and always advertises in the local newspaper "Rykiperän sanomat." They have a mail box at Kesselinperä player's home and the woodshed. Next to the Kesseli mailbox is another mailbox that has the player's current surname on it. Since the 13.03.2017 update, they seem to have gone to Tenerife. This update also confirms that the van belongs to the players uncle.
The Drunk Guy who calls for a ride.
The two drunk guys who spend their nights at Pub Nappo, discussing about random things, mostly about sausage factory which fired many workers.
The Firewood Guy.
The guy who lives in Loppe, in a red house with a pitched roof. He's very thankful.
Another guy who lives in Loppe, in a red flat roof house opposite of the car repair shop. He has a boy, Samppa who makes the job call to the player but is not seen or heard anywhere else.
Samppa, a boy who calls the player to empty the septic tank, when his dad is drunk.
The guy who lives in a yellow house with a septic tank in Peräjärvi. His dialect sounds like he's from the southwest coast of Finland.
The guy who lives in a red house with a septic tank in Peräjärvi. It seems that he thinks the whole septic tank emptying business is rather bothersome and wants everybody to just continue with their lives.
The guy who has a house with a septic tank, to the south of the firewood guy. He speaks with a low rough voice and wants his septic tank emptied immediately. He has a kind of a southwestern dialect.
The guy who drives around the dirt roads in a small green car is known as Jaakko or sometimes as Race driver Jaakko.
Eight policemen (two with a radar, two taking breathalyser tests, rest four in two police cars)
Log truck driver
Beer truck driver
Yellow techno car, the car parked in front of Teimo's Shop
Yellow van driver
Other small car drivers
Two guys (in addition to Fleetari) who are organising the rally
Almost all the guys who sit outside their houses waiting for their septic tanks to be emptied have the same text on their shirts "jos ei tee töitä ei tuu virheitä", which means "if you don't work, there won't be mistakes".
Ad blocker interference detected!
Wikia is a free-to-use site that makes money from advertising. We have a modified experience for viewers using ad blockers

Wikia is not accessible if you've made further modifications. Remove the custom ad blocker rule(s) and the page will load as expected.